Colors Washed Out on Firestick? (Just Do This ONE THING)
Disclosure: Tech Parasol is supported by its readers. When you purchase through links on our site, we may earn an affiliate commission. Thank you.
If you own a Firestick and the colors look a little washed out, you're not on your own.
It's a common problem and luckily, I've found some proven fixes. So you should have your TV picture looking good in no time!
Let's get to it.
Colors washed out on Firestick
The most common reason colors look washed out on a Firestick is because the HDR setting is set to 'Always HDR'. Try changing it to 'Adaptive'. You can also try rebooting, using a different HDMI port and checking the HDMI plug for damage. If you use a HDMI extender cable, try a different cable.
That's it in a nutshell but there's a lot to unpack. Let's go through these fixes one by one until you resolve the issue.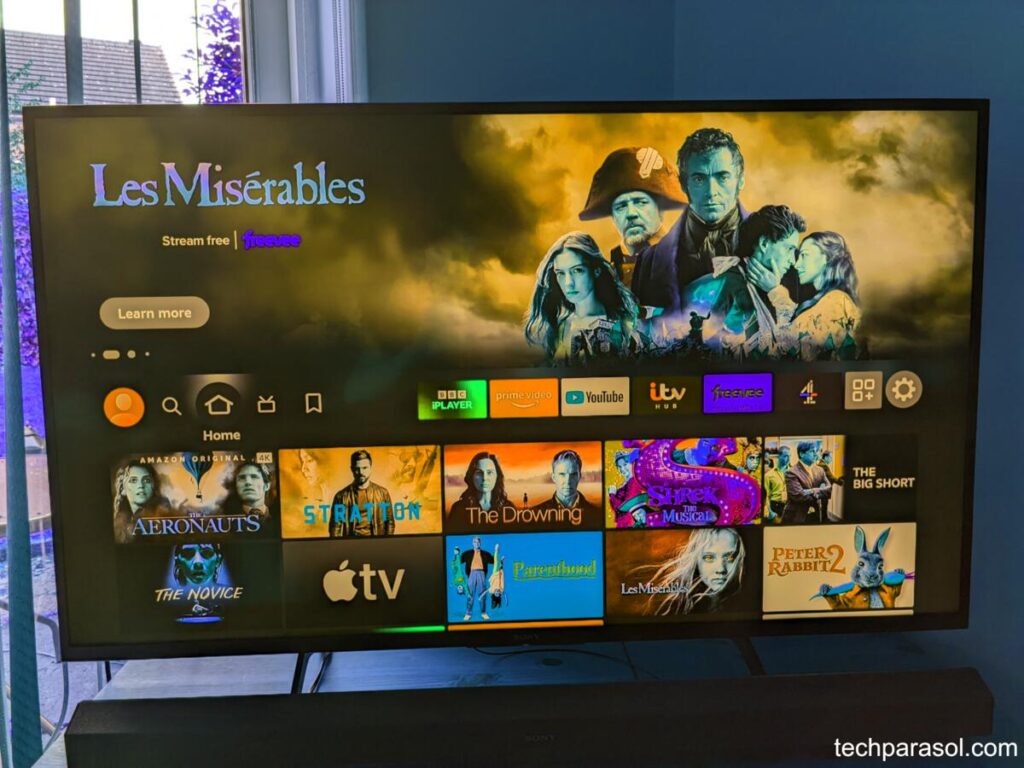 Unplug Your TV and Firestick device
Rebooting and resetting devices can actually solve lots of problems.
This is why you will always find the "try resetting it" advice applied to almost any electronic device.
Ultimately, resetting a device, wipes the current state of the software. This allows the software to start again from the beginning.
This is useful when the code is in a state where it can't continue.
So, the first thing I would do is to completely unplug the Firestick device itself from the back of the TV.
Then you want to unplug the Firestick from the mains outlet too.
Next, turn off your TV with the remote and unplug it from the mains outlet.
When you've done this, grab your TV remote and hold down the power button for a full 60 seconds.
Be patient here.
Waiting the full 60 seconds will drain any residual charge left in the TV.
After 60 seconds, plug everything back in again and try again and see how the colors look.
If that doesn't work, it may be an issue with HDMI.
Use a different HDMI port
If the colors are a bit off on your Firestick, it could be that something is wrong with the HDMI port on the back of the TV.
To rule this out as being the cause, try unplugging the Firestick and plugging it into a different HDMI port.
You can do this with the TV and the Firestick plugged in.
If the HDMI ports are fine, it's time to check the HDMI plug itself.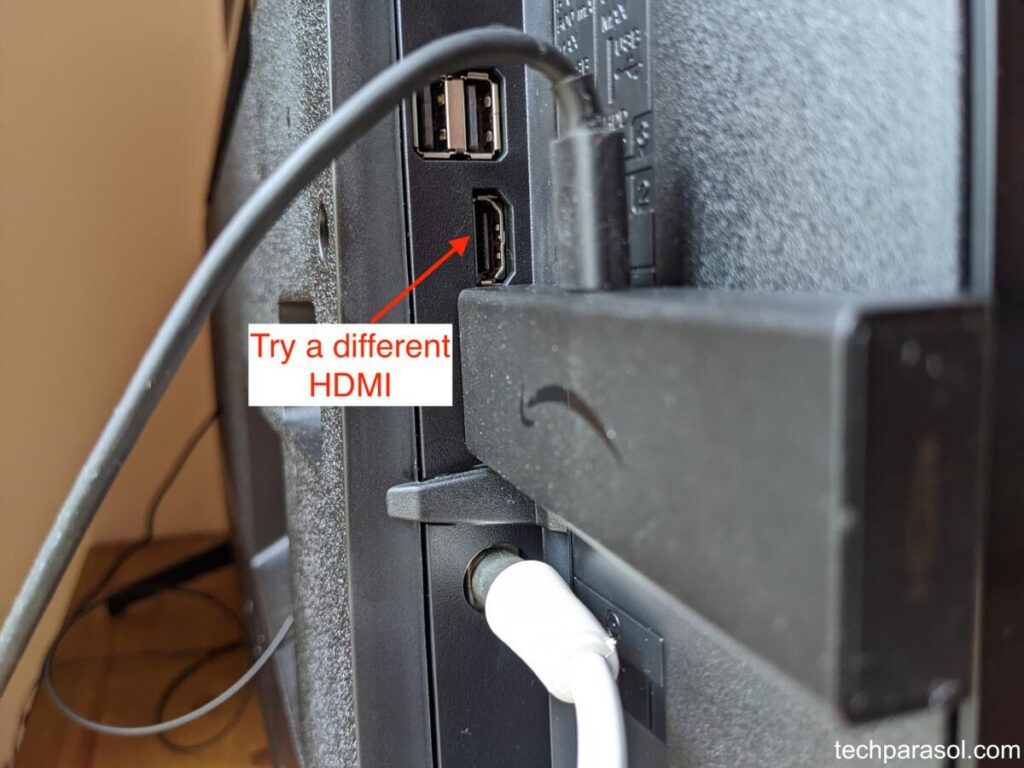 Check the HDMI plug on the Firestick
It's worth having a look at the HDMI plug on the Firestick itself.
Sometimes these plugs can become bent over time. Especially if you're unplugging and plugging it back in all the time.
If it's bent, it's likely it will need replacing.
If everything looks okay with the plug, the issue may be with the HDMI extender cable (if you're using one).
If you don't use a HDMI extender with your Firestick, skip the next bit and move onto 'Change your HDR settings'.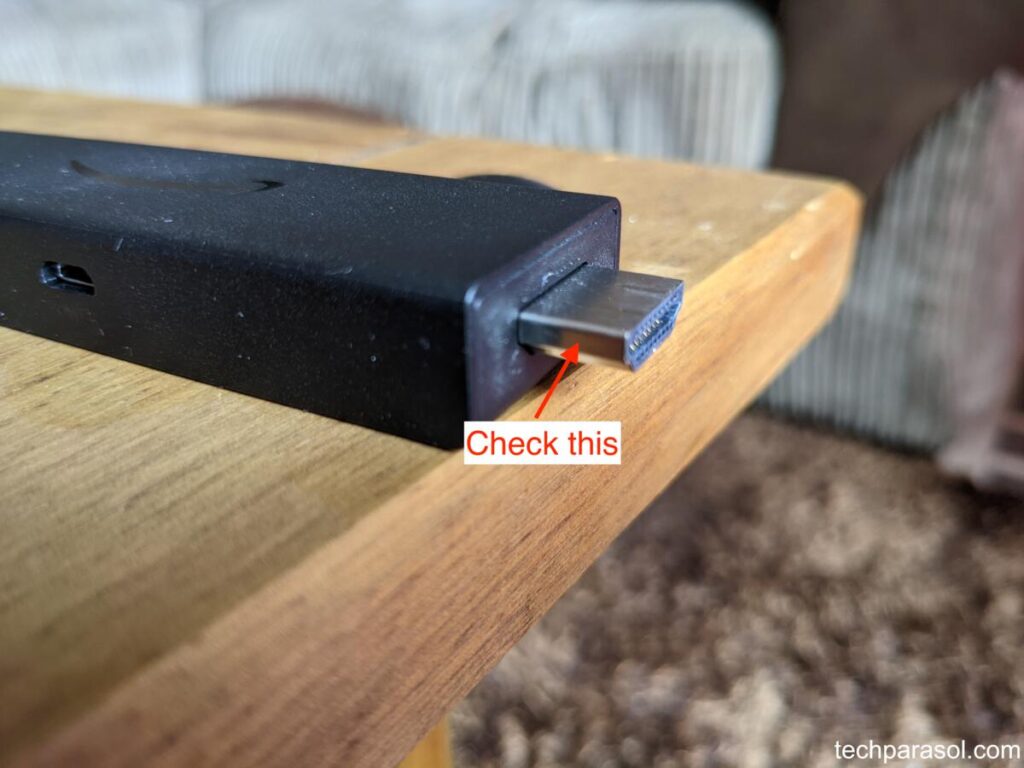 Use a different HDMI cable
If you use a HDMI extender cable, like I do, try using a different HDMI cable.
Or, try removing the HDMI cable altogether.
Then plug the Firestick itself into the HDMI port on the back of your TV.
If that didn't work, it's more than likely down to the HDR settings on your Firestick.
Let's move on so you can find out which settings you need to change.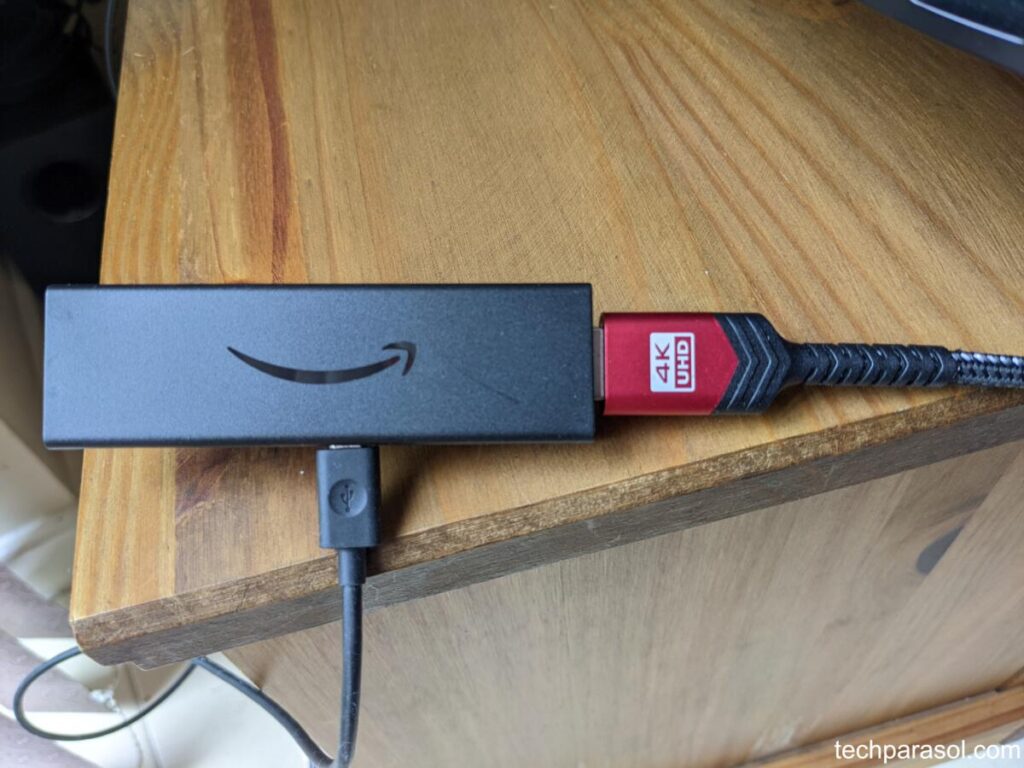 Change your HDR settings
HDR stands for High Dynamic Range and is a feature found on most TVs these days.
In a nutshell, it's designed to enhance the image quality on your TV.
When you watch HDR content on a good quality HDR TV, the images will look more lifelike.
In HDR, colors look deeper and more realistic.
The image will be brighter in places where it should be. It will also be darker in dark areas of the scene too.
But for HDR to display correctly, the film or TV program you're watching must also be in HDR.
If the content you're watching is in SDR (Standard Dynamic Range), the colors can look weird and washed out.
To fix this, click the home button on your Firestick remote and go to settings (the cog icon on the far right middle of your screen).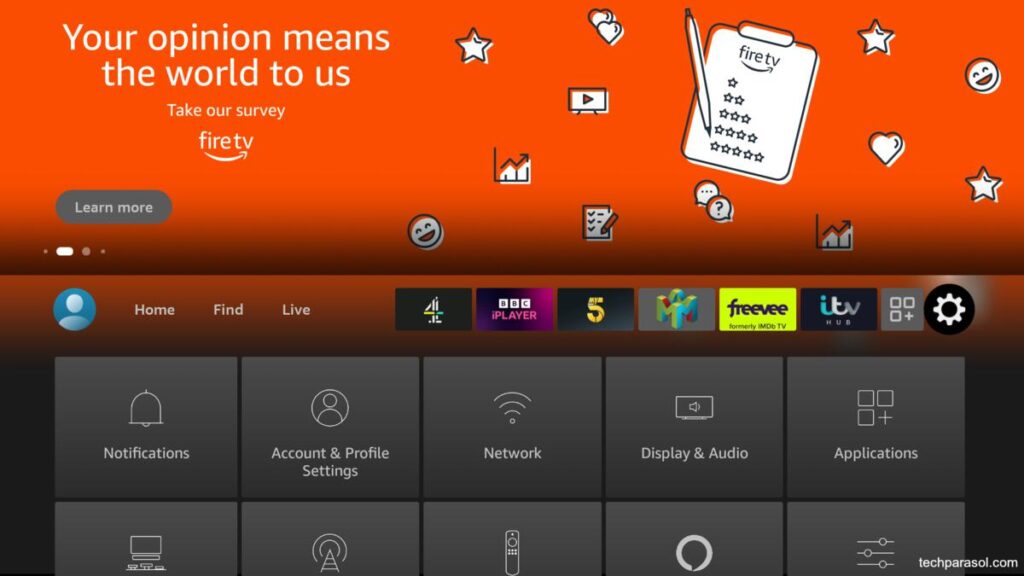 Select Display & Audio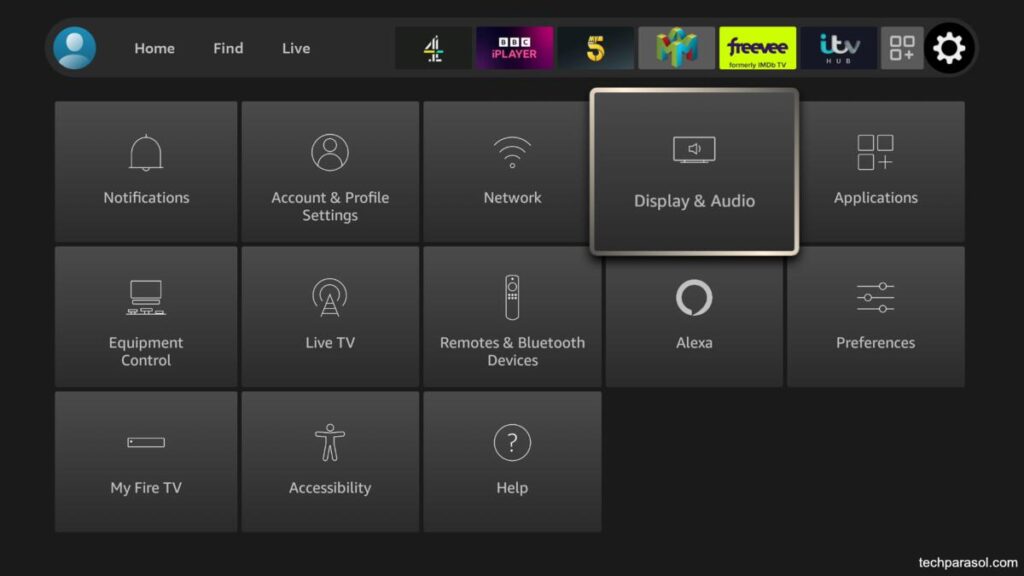 Select Display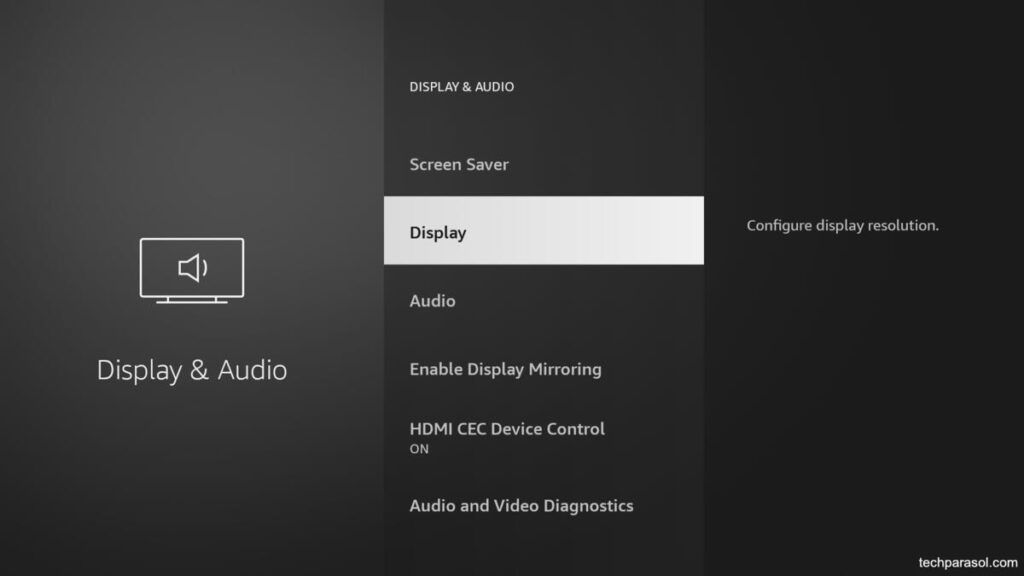 Select Dynamic Range Settings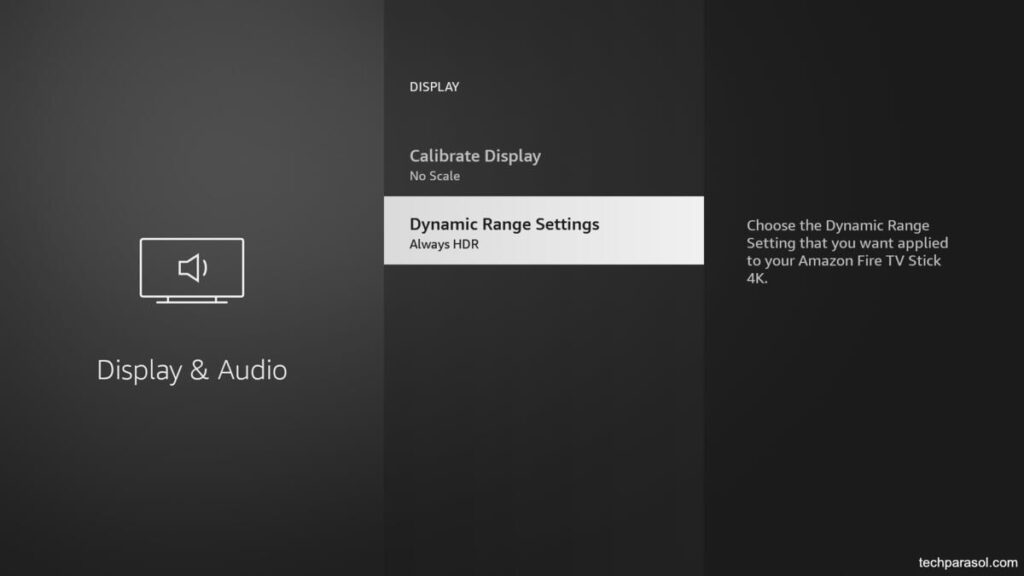 Select Adaptive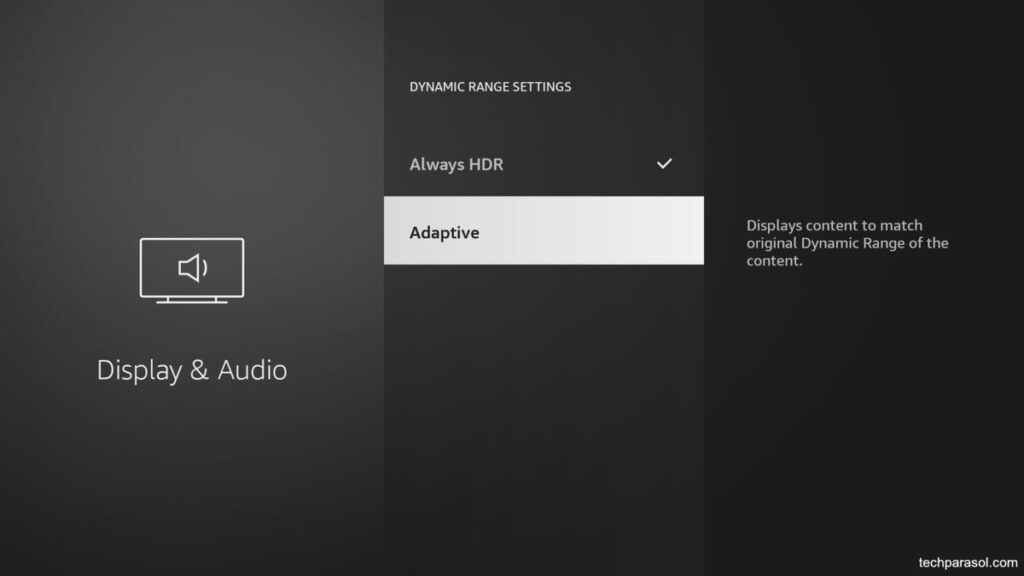 And that's it!
Once you've done that, you should find that all the colors look normal again.
In this mode, if the content you're in is in HDR, the Firestick will turn on HDR mode automatically.
HDR mode will turn off automatically too if you're watching SDR content.
If that didn't work, there may be a software bug that needs fixing on your Firestick.
Let's look at how you can update your Firestick to the latest version of the software.
Update the Firestick Software
On a regular basis, Amazon updates the software that runs on the Firestick and Fire TV devices.
Usually, the Firestick will prompt you to update the software as soon as it becomes available.
But in case this doesn't happen, here's how you can update your Firestick manually.
Go to Settings > select My Fire TV > select About > select Check for Updates.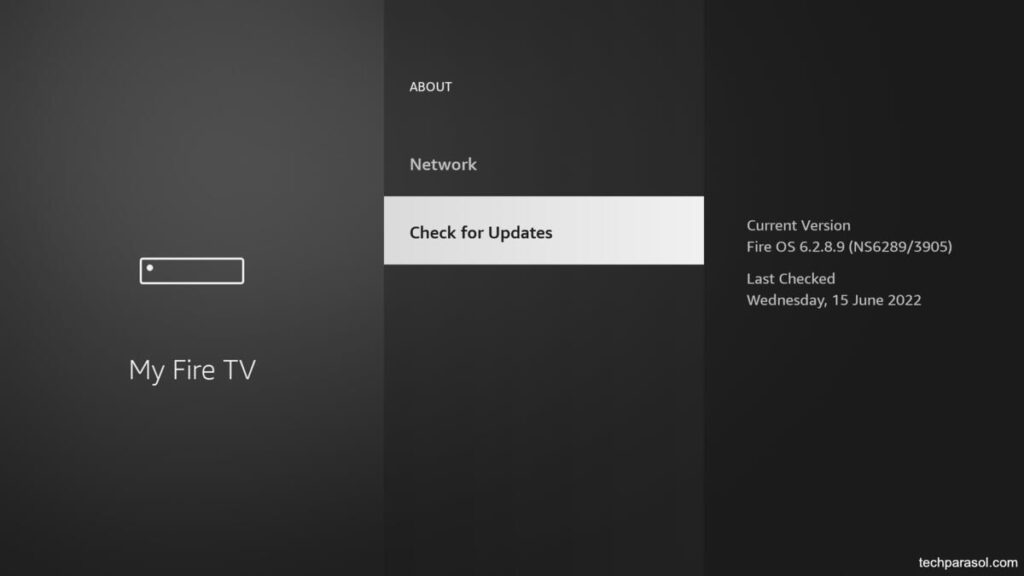 Contact Amazon Support
If you've tried everything that I've told you so far, you need to contact Amazon customer support (see the link at the end).
Or, if you wish to speak to someone, the phone number is: 1-888-280-4331 (24 hours/7 days a week).
You'll be speaking to a bot at first, but if you're persistent, you will actually get through to a human being (a refreshing change these days!).
Make sure that the phone you're calling from is the one associated with your Amazon account.
This is because they'll ask you for a verification code which gets texted to you.
Or, you can jump on the live chat.
To get to the live chat, click the link below for Amazon customer support. Then select 'Something else' and then click 'I need more help'.
A chat window will then appear and the bot will ask you what you want help with.
In the free text field at the bottom where it says "Tell us more about what you need", type "Talk to a representative."
You will then have the opportunity to chat with an associate or request a phone call.
Conclusion
If the colors look washed out on your Firestick, try these fixes in order. Your movies and TV programmes will look as they should do in no time.
Reboot and reset your Firestick and TV by unplugging both from the power outlet. Hold down the power button on the TV remote for a full 60 seconds and plug everything back in again.
Use a different HDMI port.
Check that the HDMI plug on the Firestick isn't bent or damaged in any way.
If you're using an HDMI extender cable, try a different HDMI cable.
Change HDR to 'Adaptive' in the Firestick settings.
Update the Firestick Software.
If none of these things worked for you, try contacting Amazon customer service. The link is below under 'Sources'.
If any of these solutions fixed the issue for you or if you've found a different solution, I'd love to know about it.
Feel free to send me an email about it. That way I can include it in the article and help others.
Before you leave, check out what I think about the Firestick.
Thanks for visiting Tech Parasol.
Sources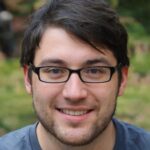 Robert Anderson
Robert Anderson, the founder of Tech Parasol, had a keen interest in tech from a very young age. He studied Electronic Engineering at University and then went on to become a Software Developer. He launched Tech Parasol in 2021 to share his knowledge with the aim of making tech easier to understand for everyone.