Are TV Wall Mounts Easy Or Hard To Install? (Explained)
Disclosure: Tech Parasol is supported by its readers. When you purchase through links on our site, we may earn an affiliate commission. Thank you.
Wall mounts can be easy to install if you have reasonable DIY skills and the tools required.
Mounting the wall bracket using the studs is critical in ensuring that it is mounted securely.
Wall mounting a TV yourself can save you money, but hiring a qualified professional can give you peace of mind.
If you're thinking about wall mounting your TV, then this blog post will help you know what's involved.
Hopefully, by the end of the post you'll have a good idea as to whether you should tackle the job yourself, or get a professional in.
Let's get to it.
But first, here's the answer in a nutshell:
TV wall mounts can be easy to install if you have the skills and tools required.  However, if you're not confident when it comes to DIY, then consider getting someone who is to help.  Alternatively, you can get a tradesperson to carry out the job for you.
Now let's get into a bit more of the detail in terms of what's involved.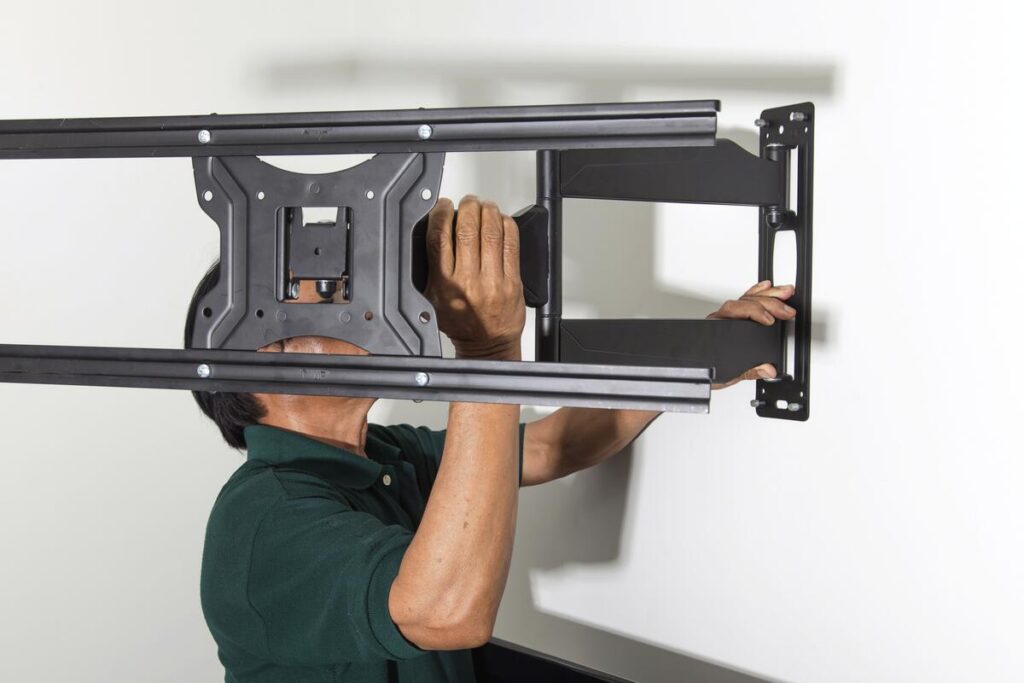 Can anyone hang a TV?
Anyone can hang a TV as long as they have the skills and the tools to complete the job.  
If you're reasonably competent at DIY, then you will have no problem hanging a TV.  
But you do need to have good attention to detail because if you make any mistakes, you could end up with an expensive TV on the floor.
Perhaps the trickiest part to hanging a TV is mounting a bracket on the wall at the correct height whilst ensuring it is level.
Care must also be taken to ensure that the bracket is mounted using the studs behind the drywall to ensure that the TV has enough support.
Do you need to be good at DIY to mount a TV?
It helps to be reasonably good at DIY when mounting a TV, but it's not absolutely necessary.  
If you haven't tackled anything like this before, then you should have someone who is good at DIY to help you.
But, these days there are a ton of tutorials on YouTube that you can watch and many of them guide you through the entire process from beginning to end. 
So as long as you can follow the instructions, you shouldn't have any problem mounting your TV.
Here's the best YouTube video I could find on wall mounting TVs:
Can you install a wall mount on your own?
You can install a wall mount on your own, but it will certainly be a lot easier to have at least one other person on hand to help you.  
You will almost certainly need someone else to help mount the TV itself onto the mount.  
This is especially the case if you are mounting a large TV.
But if you want to "test drive" the height of the TV on the wall before you mount it, then you're going to need two people to help you.  
Two people can hold the TV on the wall, and the other person can judge the height.
Do you need a professional to install a TV wall mount?
You don't need a professional to install a TV wall mount and you can certainly save yourself some money by doing it yourself.
But if you don't feel confident enough to install a wall mount by yourself, consider getting someone to help you or a professional tradesperson to do it for you.
At least if you get a professional in to do the job, you know that it will be done right and give you peace of mind.
If you don't have tools yourself, it may cost you just as much to buy the tools as it would to get a professional to do it for you.
What's the most important bit to get right when mounting a TV?
The most important thing to get right is to ensure that the wall mount is mounted directly to the wall studs behind the drywall.  
Failure to use the studs could mean that your expensive TV comes crashing down to the floor.  At worst, this could cause a serious injury to someone.  
At best, it will make a large hole in your finances,
Perhaps the next most important bit to installing a TV mount is getting the height correct.
The last thing you want to be doing is craning your neck to see the TV like you're on the first row in a cinema!  
Not only is this bad for your neck, but the picture may not look as good when viewed from an angle.  
If you're mounting an OLED TV then it will look good from all angles, but with an LED/LCD TV, viewing angles are narrower.  
How narrow the viewing angles will be will depend on the TV panel itself.  IPS panels are much better than VA panels for viewing angles.
Do you need any special tools to mount a TV?
The only special tool that you'll need is a stud finder to help you find the studs behind the drywall.
Other than the wall mount itself that you will need:
Spirit level.
Screw driver
Drill and drill bits.
Tape measure.
Socket wrench.
What are the common mistakes people make when wall mounting a TV?
Here are some things to look out for when installing a wall mount.
Mounting a TV above a fireplace
Many think that above a fireplace is an ideal position to mount a TV.  But the excess heat generated from a fire can cause issues with electronics.
Increasing the operating temperature of your TV can shorten the life of a TV.  
If you have a real fire, soot from the fire can get inside the TV causing the slow demise of your TV over time.
Mounting a wall bracket directly into drywall
Drywall simply isn't strong enough to hold a TV and its mount for any length of time.  
So it's important that the wall bracket is mounted directly into the studs.  
These are strong enough to support almost any weight of TV.
Mounting the wall bracket too high (or too low)
If you mount the wall bracket too high or too low, your neck won't thank you.  
In a living room, it should be centered at eye level when sat down.  In a kitchen it should be centered at eye level when standing.
It's a good idea to measure twice and drill once to get it right the first time.  The last thing you want is to have too many holes in the wall.
Not using spacers when mounting the TV onto the wall mount
You may get lucky and there may be plenty of room at the back of the TV for cables, even with a low-profile, fixed mount.  
But you may find that when you mount the TV that there isn't much room between the TV and the mount.  
So when you come to connect HDMI cables, you might have to bend them to get them to fit.  
You risk breaking the cables doing this or worse, you could break the HDMI port on the TV itself.
Spacers can solve this problem by increasing the amount of space allowing you to connect your cables with ease.
Not installing enough HDMI cables
It's a lot less hassle and will cost you less time and money if you feed extra HDMI cables through your wall the first time around than at a later date.
You may not need them immediately, but if you suddenly decide in the future to get a new device such as a game console, then you will already have the cabling in place.
Not hiding cables
If you don't hide cables inside the wall, your setup can look ugly.  The last thing you want is a load of cables hanging down underneath your TV.
If you're not confident in hiding cables yourself, then get a qualified electrician to do it.  
It really will make a big difference to how your TV looks on the wall.
Getting the wrong mount
Another common mistake people make is purchasing the wrong amount for their situation.
If you have a fixed mount but get plenty of glare from the sun or other light sources, then a tilting or full-motion mount may have been a better choice.
But full-motion mounts aren't needed for all rooms.  
They're useful if you want to view the TV from another room.
But for most rooms, like a living room or an office, a fixed mount will be fine, especially if mounting it lower down on the wall.
If however, you're mounting the TV higher up, you don't want a TV that is flat to the wall.  
Instead, a tilting mount will be better so you can get a good view of the TV.
Here's a tip for you when purchasing a mount: make sure it has enough holes on the mount itself to compensate for uneven studs.  
You should measure the studs first and then get a suitable mount that can be mounted where you want to be.  
Ideally you need to be mouting into two studs so that your TV has adequate support.
What's the easiest wall mount to install?
No one type of wall mount is easier to install than others.  But some wall mounts are simpler than others in terms of their construction.
Flat wall mounts are the simplest.  They simply attach to your wall in a fixed position and don't allow the TV to swivel, tilt or move in any way.
Will my TV fall off the wall?
If a TV wall mount is not mounted directly into the studs behind the drywall, then there is a risk that the TV will fall off the wall.
Although TVs are light, larger TVs together with their mounts are often too heavy for direct installation into drywall.
So, always install the TV mount into the studs and use a stud finder to locate them.
The last thing you want is a TV that can fall down at any time without notice, especially if there are children present.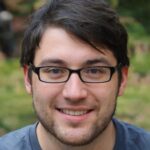 Robert Anderson
Robert Anderson, the founder of Tech Parasol, had a keen interest in tech from a very young age. He studied Electronic Engineering at University and then went on to become a Software Developer. He launched Tech Parasol in 2021 to share his knowledge with the aim of making tech easier to understand for everyone.