Wall Mounting Smart TVs: 13 Questions Answered
Disclosure: Tech Parasol is supported by its readers. When you purchase through links on our site, we may earn an affiliate commission. Thank you.
Wall mounts are not only great for saving space but they can also prevent TVs from toppling over.  They can also look better than a TV placed on a stand.
As such, mounting a TV is a popular option.  But there are lots of questions people have around installation and also the wall mounts themselves.
So in this blog post, I'll be answering some of these common questions.
So without further ado, let's get to it.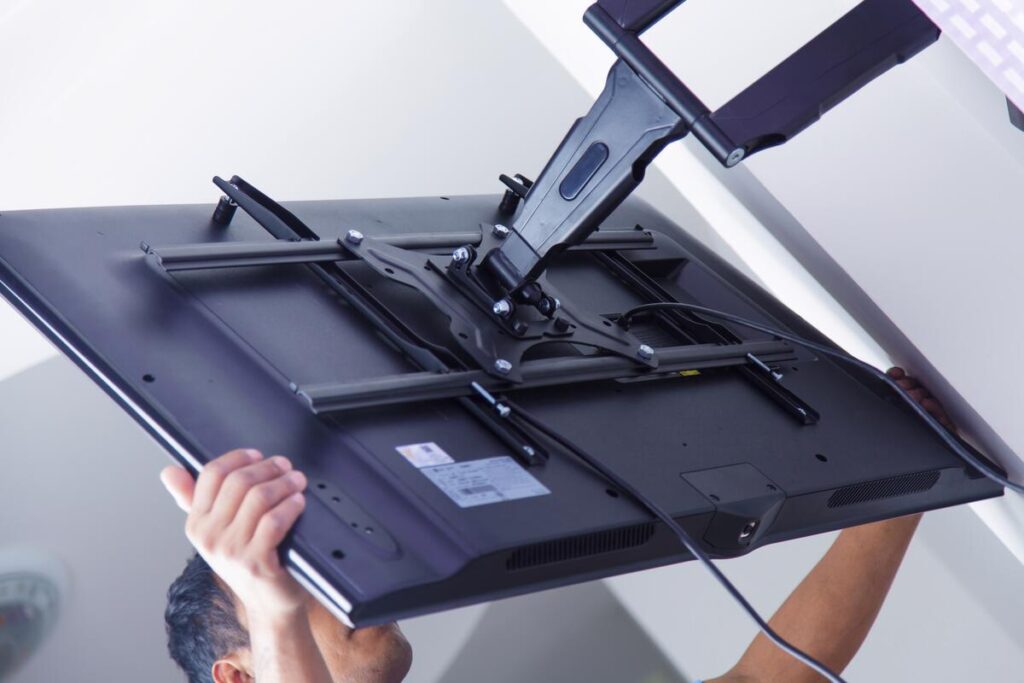 Can any Smart TV be wall mounted?
Most modern Smart TVs can be wall mounted and have four symmetrical holes on the rear of the TV specifically for this purpose.
Although some Smart TVs are large, they are light and are well suited to being wall mounted.
But before pressing ahead, you need to check the TV and the mount to make sure they're VESA (Video Electronics Standards Association) compatible.  
Most are, so this won't be a problem.
VESA compatibility means that the manufacturer has followed some standard guidelines.  This allows a consumer to find a wall mount that will fit their TV without too much trouble.
To find a wall mount for a VESA compatible TV, you just have to make sure the VESA size on the wall mount matches the VESA size of the TV.
You can easily find this VESA size in the TV manual or online.
Alternatively, you can measure it.  The VESA size is simply written as "Width x Height".
The width and the height is the distance between the two horizontal holes and the two vertical holes respectively.  You'll find these on the back of the TV.
Do OLED TVs need a special wall mount?
OLED TVs don't need special wall mounts.  But some manufacturers have made wall mounts specifically for OLED TVs so that they compliment the slim design of an OLED TV.
When mounting an OLED TV on the wall, you should buy a wall mount that doesn't make the TV protrude out from the wall any more than it has to.
An OLED TV should take pride of place in your living room but it should also blend in seamlessly without dominating it. 
Is wall mounting a TV difficult?
Wall mounting a TV needn't be difficult, but you do need to plan how you're going to do it and assess what tools you may need before attempting it.
There are also a bunch of things that you need to consider too before you start.
For example:
How will you conceal cables such as power cables and HDMI cables?
Can your wall handle the weight of the mount and the TV?
Do you have somewhere to put your devices (think games consoles, Blu-ray players, soundbars etc)?
Do you plan to use an adjustable mount to help reduce glare?
Can you easily access ports on the back of the TV if you want to add a new device?
You should also consider getting someone to help you for safety reasons especially when hanging the TV itself onto the wall mount.
It's also useful to have someone else on hand for a second pair of eyes.  They may notice mistakes which may prevent a disaster!
Are TV wall mounts universal?
Most TV wall mounts are universal in that most follow the standards set out by the Video Electronics Standards Association (VESA).  But not all wall mounts fit all TVs because there are different VESA sizes.
Also, bear in mind that although most manufacturers follow the VESA standards, some don't.
Can I use my old wall mount for my new TV?
For an old wall mount to fit a new TV the wall mount and the TV must support the same VESA size.  The old wall mount must also be capable of supporting the weight of the new TV.
VESA sizes are written like "400×400" which means that the holes are 400mm apart horizontally and 400mm apart vertically.
You can compare the VESA sizes for the TV and the wall mount using the manuals to see if they match.  
Or you can simply measure the distance between the holes yourself.
Are TV wall mounts adjustable?
Some TV wall mounts are adjustable depending on the type.  Some types can tilt, some can swivel and others have a full range of motion.
The type you get depends on the layout of your room, where you want to sit and where you plan to hang the TV.
For example, if you want to sit directly in front of the TV and have it at an optimal position at all times, then a fixed wall mount will be a good option.
Fixed wall mounts are the simplest type of wall mount and are also the cheapest variety. 
They allow a TV to be mounted flush to the wall so you don't tend to have a lot of spare room at the back between the TV and the wall for connectors.  
If you want to change the angle of the TV to avoid glare or you're hanging the TV high on the wall, like in a bedroom, then consider getting a mount that can tilt.
Alternatively you can go for a full motion mount.  These are great if you want complete control over the position of your TV.  
With a full motion mount, you can extend, swivel and tilt your TV however you want.  So you'll always be in a good position to watch TV regardless of where you're sitting.
How far do TV wall mounts extend?
The amount a TV wall mount can extend depends on the product.  
Some wall mounts can extend to a maximum of 42-inches, others can only extend up to 10 inches.
Are cheap TV wall mounts any good?
You don't need to spend a fortune on a TV wall mount for it to be good.  But you do need to make sure that the wall mount you choose can hold the weight of your TV to ensure it doesn't end up on the floor.
Here are some things to look out for when buying a TV wall mount:
Make sure it's VESA compatible.
More expensive wall mounts will have a cable management system, cheaper one's will have basic clips to hold cables in place.
Ensure that the mount has been quality-tested and labeled with a UL rating.
Do TV wall mounts have weight limits?
TV mounts do have a maximum weight rating.  
So as long as your TV falls within the weight limits of the mount, it will support it just fine.
Can a TV be too heavy to mount?
Any TV regardless of its weight can be mounted.  
But the mount and the wall itself must be able to withstand the weight of the TV.
When to use spacers on a TV mount?
Spacers are required when either the TV is curved or has a rounded back or if there is a "bump" on the back of the TV.
You can also use spacers to increase the amount of space between the TV and the bracket.  This allows easier access to any connectors on the back of the TV.  
Spacers can also:
Prevent damage to the HDMI cables.
Prevent the HDMI ports on the TV from snapping
Prevent the plastic TV casing from cracking when bolting the bracket to the back of the TV.
It's also worth saying at this point that you need to make sure you're using the correct bolts.  
If you use bolts that occupy the full depth of the thread and then continue to tighten them, you could damage the screen.
Also, you need to avoid bolts that are too short because they may not have the strength to hold the TV.
Do TV wall mounts leave big holes?
As long as a TV wall mount is installed correctly, there should only be small holes (about ¼-inch or less) left behind.
Are TV wall mounts considered fixtures?
TV wall mounts are considered fixtures because they are permanently attached to the wall with bolts. 
Sources
Answer these 7 questions before you mount your TV – CNET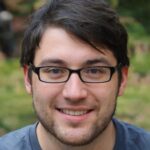 Robert Anderson
Robert Anderson, the founder of Tech Parasol, had a keen interest in tech from a very young age. He studied Electronic Engineering at University and then went on to become a Software Developer. He launched Tech Parasol in 2021 to share his knowledge with the aim of making tech easier to understand for everyone.